Try this bold recipe today. Beef Short Ribs and mushrooms are braised in beef stock and red wine for a deep delicious flavor.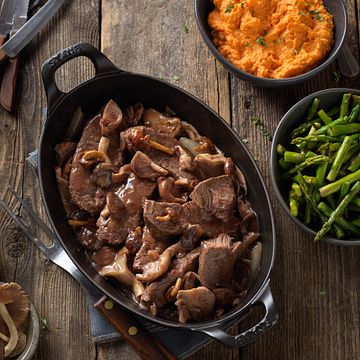 3 hours
Makes 6 servings
Entrée
Braised Short Ribs with Red Wine Sauce
Ingredients
2 pounds beef Chuck Short Ribs, Boneless
1 teaspoon vegetable oil
1-1/4 cups beef broth
1-1/2 cups dry red wine, divided
2 small onions, quartered
4 teaspoons minced garlic
3 fresh thyme sprigs
1-1/2 cups sliced mushrooms
2 tablespoons butter
1/4 cup chopped shallots
1 teaspoon minced fresh thyme
2 teaspoons cornstarch
Instructions
Heat oil in large stockpot over medium heat until hot. Brown beef Short Ribs on all sides. Season with salt and pepper as desired. Add broth, 1 cup wine, onions, garlic and thyme to stockpot; bring to a boil. Reduce heat; cover tightly and simmer 1-3/4 to 2-1/2 hours or until beef is fork-tender.

Cook's Tip:

To cook in a slow cooker, add beef, salt and pepper, as desired, broth, 1 cup wine, onions, garlic and thyme to 4-1/2 to 5-1/2 quart slow cooker. Stir to combine. Cook on HIGH 4 to 6 hours, or LOW 8 to 10 hours, or until beef is fork tender.  When the beef is done, continue instructions for sauce preparations beginning in step 2.

Remove Short Ribs from stockpot; keep warm. Strain vegetables and skim fat from cooking liquid. Reserve 3/4 cup cooking liquid for sauce; discard remaining cooking liquid.

Melt 1 tablespoon butter in large nonstick skillet over medium heat. Add mushrooms, shallots and minced thyme; cook and stir 5 minutes or until mushrooms are tender. Dissolve cornstarch into remaining 1/2 cup red wine. Add reserved cooking liquid and cornstarch mixture to skillet. Bring to a boil. Reduce heat and simmer 5 minutes; stirring often. Remove skillet from heat; stir in remaining 1 tablespoon butter. Serve sauce over Short Ribs.