So simple yet so tasty. Try this Asian-style salad with stir-fried Sirloin Tip Steaks topped with crunchy peanuts or wasabi green peas.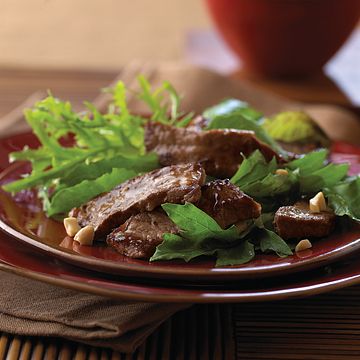 20 minutes
Makes 4 servings
Salad
Simple Asian Beef Salad
Ingredients
1 pound beef Sirloin Tip Steaks, cut 1/8 to 1/4 inch thick
1/2 cup prepared Asian-style dressing
3 cloves garlic, minced
8 cups mixed salad greens
2 tablespoons dry-roasted peanuts, chopped or wasabi green peas
Instructions
Stack beef Sirloin Tip Steaks; cut lengthwise in half, then crosswise into 1-inch wide strips. Combine 2 tablespoons dressing, garlic and beef in medium bowl. Cover and marinate in refrigerator 30 minutes to 2 hours.

Heat large nonstick skillet over medium-high heat until hot. Add 1/2 of beef; stir-fry 1 to 3 minutes or until outside surface of beef is no longer pink. (Do not overcook.) Remove from skillet. Repeat with remaining beef.

Using slotted spoon, add beef to salad greens. Add remaining 6 tablespoons dressing; toss to coat. Sprinkle with peanuts.