Add some freshness to a delicious Ground Beef skillet recipe. Korean barbecue sauce is enhanced with the addition of fresh bok choy, bean sprouts, and green onions.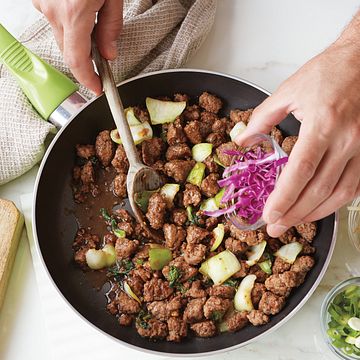 30 to 40 minutes
Makes 4 servings
Entrée
Korean Beef Skillet
Ingredients
1 pound Ground Beef (93% or leaner)
2 cups baby or regular bok choy, cut into 1 inch pieces
3 cloves garlic, minced
1/2 cup Korean barbecue sauce
1/4 cup water
1/4 teaspoon crushed red pepper flakes
1 cup thinly sliced red cabbage
1/2 cup fresh bean sprouts
1/2 cup thinly sliced green onions
Hot cooked brown rice
Toppings (optional):
Thinly sliced seaweed and thinly sliced red radishes
Instructions
Heat large nonstick skillet over medium heat until hot. Add Ground Beef, bok choy and garlic; cook 8 to 10 minutes, breaking into small crumbles and stirring occasionally.

Cook's Tip: Cooking times are for fresh or thoroughly thawed Ground Beef. Ground Beef should be cooked to an internal temperature of 160ºF. Color is not a reliable indicator of Ground Beef doneness.

Stir in barbecue sauce, water, red pepper; cook 1 to 2 minutes or until heated through, stirring occasionally. Remove from heat. Stir in cabbage, bean sprouts and green onion. Let stand 5 minutes.

Serve beef mixture over rice. Top with seaweed and red radish, if desired.