Spice up your meal with this spicy Asian beef & rice recipe. Tenderloin Steak, coated in sesame seeds and served with rice, edamame and dipping sauce, is simply irresistible!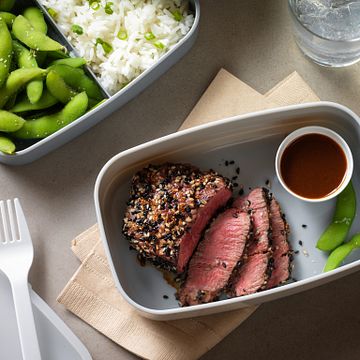 20 minutes
Makes 4 servings
Entrée
Spicy Asian Beef & Rice
Ingredients
4 beef Tenderloin Steaks, cut 1 inch thick, about 4 to 6 ounces each
2 tablespoons white sesame seeds
2 tablespoons black sesame seeds
2 cups frozen edamame in pods
1/4 cup sliced green onions
2 cups hot cooked brown rice
Dipping Sauce:
1/4 cup hoisin sauce
1 tablespoon water
2 teaspoons distilled white vinegar
1/2 to 2 teaspoons Asian hot sauce (Sriracha sauce)
Instructions
Preheat oven to 350°F. Combine white and black sesame seeds on dinner plate.  Press mixture evenly onto steaks. Spray large ovenproof nonstick skillet with cooking spray; heat over medium-high heat. Place beef steaks in skillet and brown 2 minutes. Turn steaks over and place skillet into preheated oven; cook 13 to 18 minutes for medium rare (145°F) to medium (160°F) doneness, turning once.

Meanwhile, prepare edamame according to package directions; set aside. Stir green onions into rice. Combine dipping sauce ingredients in small bowl; set aside.

Stir green onions into cooked rice.

Remove steaks from the oven, let stand 3 to 5 minutes. Serve with rice mixture, edamame and dipping sauce.

Cook's Tip: Place steak, rice mixture, edamame and dipping sauce in separate compartments of a bento box as desired.